Lawnflite 553HRS-PROHS 21" Roller Mower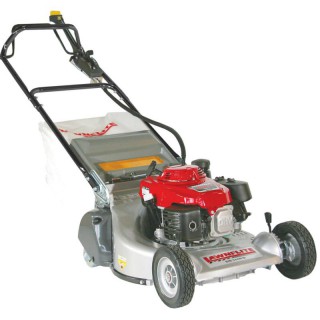 LAWNFLITE 553HRS-PROHS 21" ROLLER MOWER
The Lawnflite 553HRS-PROHS is a self-propelled rotary bladed 53cm cut rear roller mower powered by a Honda GXV160 engine and featuring a high speed gearbox and Blade Brake Clutch.
The 553HRS-PROHS is aimed towards the professional market. Features like the corrosion resistant alloy deck with reinforced steel liner protect the underside of the machine whilst mowing and increases the working life of the mower.
The high speed gearbox is perfect for commercial operators who use machines on a daily basis and want to complete their mowing quicker.
Specifications
Type : Rear Roller
Model : 553HRS-PROHS
Engine : Honda GXV160
Capacity : 163cc
Gearbox : High Speed
Drive : Yes - single speed
Fuel : Unleaded petrol
Oil : 4 stroke oil
Cutting Width : 53cm / 21 inch
Cutting Heights : 7 from 13 - 59mm
Rear Roller : Yes, full width steel
Split Differential
Blade Brake Clutch
Shaft Drive
Fan assisted collection
Deck Material : Aluminium
Re-Inforced Deck : Yes, steel liner
Front protection bar : Yes
75 litre fabric grass collector
Weight : 64kg
Warranty : Manufacturer's 2 year domestic, 1 year commercial