Viking ME443 Electric Lawn Mower


Product Code: 63380112402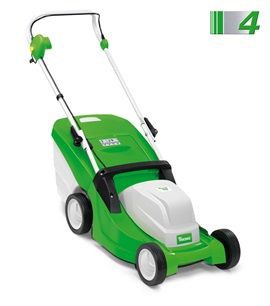 ME 443
ME 443: Good for the lawn, the environment and the neighbours.
With the ME 443 electric lawn mower, you do everyone a favour, but most of all yourself. Mowing is exhaust emission free and low noise, but most importantly relaxing. This is ensured by the mower's compact design and easy manoeuvrability. The electric motor on the ME 443 lawn mower is virtually maintenance free and develops 1,500 watts of power.
Technical specifications
Guaranteed sound power level LwA dB (A)
96
Measured sound pressure level LpA dB (A)
82
Sound pressure level uncertainty factor KpA dB (A)
2
Vibration value ahw m/s²
1.40
Uncertainty factor K m/s²
0.70
Deviations from the product range and information provided here are possible, depending on the country. VIKING reserves the right to make changes to technical specifications and equipment.